Rate Lock Advisory
Thursday, March 19th
Thursday's bond market has opened in negative territory as yesterday's afternoon volatility in the markets stabilizes. The stock markets are mixed with the Dow down 39 points and the Nasdaq up 15 points. The bond market is currently down 7/32, which should take back approximately .125 of a discount point in the improvement that came after yesterday's FOMC events.

Mortgage Rate Trend
Trailing 90 Days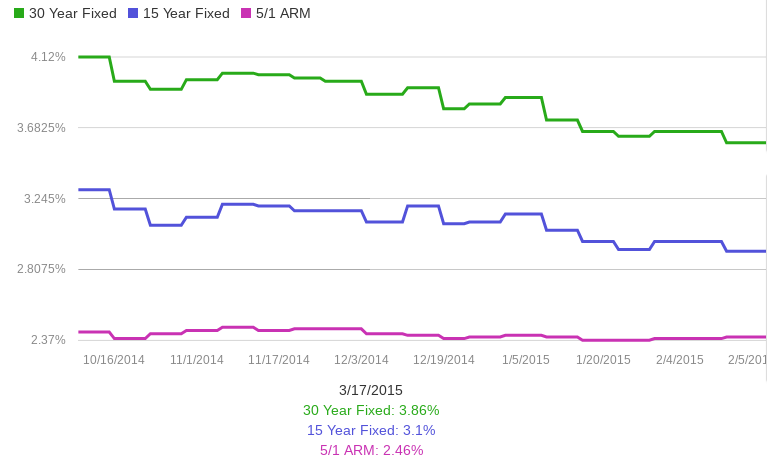 Indexes Affecting Rate Lock
| | |
| --- | --- |
| Low | Weekly Unemployment Claims (every Thursday) |
| Neutral | There were two pieces of data posted this morning, starting with last week's unemployment figures at 8:30 AM ET. They revealed that 291,000 new claims for unemployment benefits were filed last week, up slightly from the previous week's revised total of 290,000 initial claims. This wasn't enough of a difference from the 293,000 that was forecasted to have an impact on this morning's mortgage rates. |
| Low | Leading Economic Indicators (LEI) from the Conference Board |
| Neutral | At 10:00 AM ET, the Conference Board announced a 0.2% increase in February's Leading Economic Indicators (LEI). That indicates they are predicting modest economic growth over the next several months. Since the increase pegged forecasts, it also has had almost no influence on this morning's bond trading or mortgage rates. |
| --- | None |
| Unknown | There is nothing of relevance scheduled for tomorrow, but I would not be surprised to see some movement in bonds and mortgage rates as market participants look to capture some profits from this week's rally. That could lead to a little pressure in bonds and a slight increase in mortgage rates. Stocks have not been a good indicator of bond market strength or weakness recently, so I am hesitant to use them as an indicator of which direction bonds will move. |
Float / Lock Recommendation
If I were considering financing/refinancing a home, I would.... Lock if my closing was taking place within 7 days... Lock if my closing was taking place between 8 and 20 days... Float if my closing was taking place between 21 and 60 days... Float if my closing was taking place over 60 days from now... This is only my opinion of what I would do if I were financing a home. It is only an opinion and cannot be guaranteed to be in the best interest of all/any other borrowers.